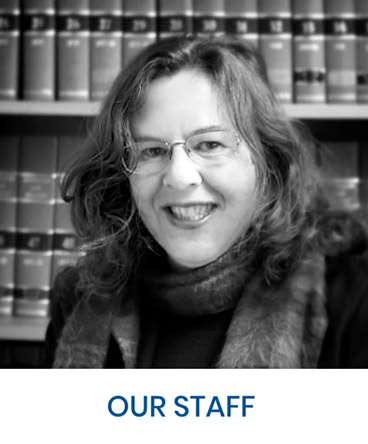 A few words from our Principal, Anne Greenaway
Thank you for visiting Lawyers for Companion Animals website.  A number of people have asked me for further information about myself and my background. For those who don't know me I have provided the following information about my legal experience and why Lawyers for Companion Animals was established.
Interview ABC Radio Sydney
Education/Legal Background
I completed my tertiary education at the University of New England, graduating with a Bachelor of Economics/Bachelor of Laws in 1997.
I was admitted to the Supreme Court of NSW in 1998. Prior to admission I worked for Allen Allen and Hemsley, primarily in their litigation and construction departments.  Here I provided litigation support in arbitration and Supreme Court matters, undertook legal research and assisted with the drafting of affidavits, defences, requests for further and better particulars and observations to counsel.
Upon admission in 1998, I was employed by the Crown Solicitors Office in the Torts Law Practice Group where I worked on litigated matters involving allegations of negligence, breach of statutory duty, breach of contract and other causes of action and encompassed personal injuries, property damage, wrongful arrest, malicious prosecution and defamation. I then spent a year in private practice working for Kenny Spring solicitors at Bathurst where I practiced in the areas of criminal law, family law, industrial relations and debt recovery. I then moved on to the Department of Fair Trading (Registry of Co-operatives) where I was employed as a Level III Legal Officer. Some of my duties included; preparation of Ministerial and Director General briefings, providing legal advice to officers within the Registry on a range of legal matters, assisting in the drafting and amendment of standard rules for co-operatives, providing advice to officers within the Registry concerning the suitability and legality of rules, writing proposed amendments to an Act and liaising with Parliamentary Counsel regarding the development of a Regulation and the preparation of Minute Paper for the Executive Council for two Acts and one Regulation.
I left the Department of Fair Trading and joined the NSW Office of Director of Public Prosecutions, where I spent the majority of my legal career working as a criminal lawyer. During my time at the ODPP I appeared in the District Court in bail applications, all ground appeals, severity appeals, call-ups, community service order breaches, sentence matters and mentions and acted as agent for the Commonwealth ODPP.  I also instructed counsel in complex District Court criminal trials and wrote Singh Protocols and other recommendations to the Director.
My strong sense of social justice, led me to work as a volunteer solicitor with Redfern Legal Centre. For two years I provided face to face and telephone advice on a wide range of issues including housing, credit and debt, legal systems and processes, employment, motor vehicle/traffic, discrimination issues, criminal and domestic violence matters. I also assisted clients draft letters and other legal documents and conducted legal research.
On 11 and 12 August 2012 I attended the No Kill Conference (http://www.nokilladvocacycenter.org/shelter-reform/no-kill-conference/) in Washington DC.  Here I met some very inspirational people who have refused to accept the killing of large numbers of adoptable cats and dogs and who have been instrumental in making positive changes in their communities.  I learned of practical ways in which people ended the killing of pets in their communities including finding homes for dogs and cats.
In September 2013 I was honoured to be nominated by seven clients for the Lawyers Weekly Women in Law Pro Bono awards. I was a finalist for these awards. An article on the finalists as well as the criteria for these awards can be found here:
http://www.lawyersweekly.com.au/news/grateful-for-those-who-give-back
http://www.lawyersweekly.com.au/women-in-law-awards/criteria/pro-bono
Why a law firm for Companion Animals?
The simple answer is because it is desperately needed. It is estimated that around 250,000 healthy cats and dogs are killed in Australian pounds and shelters every year. This is a national disgrace.  While rescue groups work frantically for these animals there are only a small number lawyers working on companion animal welfare issues. More lawyers are needed.  There is no shortage of work to be done or companion animals in need of voices to speak on their behalf.
As an ODPP lawyer I had to deal with difficult situations and deal with victims of crime on a regular basis. It's quite similar being an animal advocate, practicing in the area of Animal Law. I feel a great responsibility, especially considering the animal victims have no ability to represent themselves.
Every cat and dog is important, not just those lucky enough to have owners who can afford lawyers who can include them in wills, fight over who owns them in custody disputes etc.
In terms of my background and interest in animal law issues, in 2001 I was involved with NSW Young Lawyers Animal Rights Committee. The issue of live cattle exports was discussed at NSW Young Lawyers Animal Rights Committee meetings as long as 10 years ago. I am also part of Melbourne group called Lawyers for Animals in Victoria, which is a volunteer-based organisation dedicated to improving the welfare of animals through education and the law.
Apart from working with others on small projects I have also written letters/emails to the press on issues affecting animals, sent hundreds of emails on issues affecting animals, mainly to Members of Parliament or those working for government agencies, as well as writing submissions.  For example I wrote submissions to the Australian Law Reform Commission and the NSW Law Reform Commission submitting that pets be included in Apprehended Violence orders and that the status of pets should be higher than that of mere "property".  I also recently made lengthy submissions on a number of issues affecting cats and dogs in pounds/shelters and suggested changes to the Code of Practice for the Management of Dogs and Cats in Shelters and Pounds (Victorian Department of Primary Industries), to the Senate on Animal welfare standards in Australia's live export markets and to the Independent review into the Livestock Export Trade.
I have set up a  Page on Facebook where I am posting articles which are primarily relevant to companion animals, their welfare, how the law affects them as well as developments in the law overseas affecting companion animals. My goal is to make this Facebook page accessible to all companion animal lovers whether they are legal practitioners or not.
I have maintained a strong interest in animal law issues since my involvement NSW Young Lawyers Animal Rights Committee in 2001. I have felt a deep connection with animals for as long as I can remember. Anyone who has experienced the pure and unconditional love of an animal will, I am sure, be able to relate to why I feel so passionate about improving the welfare and strengthening the laws regulating companion animals.
When I started this law firm I was very concerned about the high kill rates of healthy and adoptable cats and dogs in pounds and shelters and also the poor treatment and care of cats and dogs in pounds and shelters. I also was very concerned about how workers who cared for the animals were bullied when they spoke out about the lack of care.
I worked pro-bono for around 18 months at my own expense. I wanted to understand why so many healthy cats and dogs were killed and to try to stop the killing. And why so many neglected animals and those subjected to cruelty were slipping through the cracks.
During this time I helped many people and also read everything I could find on issues relating to companion animals. I wrote a lot of submissions on various topics including Code of Practice for Breeding Cats and Dogs, Code of Practice for keeping cats and dogs in Pounds and Shelters, a submission for the Companion Animals Taskforce on companion animal euthanasia (and attempted to get a rescue representative on to the Taskforce). I also wrote a lengthy submission to the Parliamentary Inquiry into Greyhound Racing (NSW). I continue to be involved in policy, reform and advocacy work when it comes to companion animals in Australia and am in contact with a number of politicians and local councilors in this regard. All the advocacy work and submissions I wrote was done on a pro bono basis (ie work which I was not paid for). In order to make a living I now also focus on individual clients and their companion animal issues. Please see Our Cases for details of the work I do.
If you require legal information please use our legal query form. If you are interested in assisting us as an unpaid volunteer, please contact us via our contact form. I welcome enquiries from animal loving law students, lawyers, or those with demonstrated research, writing and computer skills."